Farmer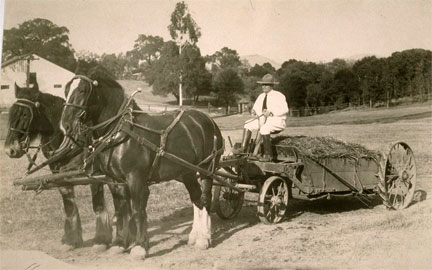 A 2014 article in Modern Farming, "Jack London's Futuristic Farm," sums it up well:
"Jack London has been called many things throughout history, among them, an author, explorer, visionary and a socialist. He has even been called the greatest romantic of his time. However, above all these fancy titles, he was a farmer—and an inventive one at that."
In 1905 American writer, Jack London, had purchased 129 acres of ranch land in the Sonoma valley, and over time he continued to add adjoining acreage. (Before then he had lived with Charmian at Wake Robin, owned by her aunt Ninetta Eames.) While writing remained his vocation, farming became his avocation. As an enthusiast of scientific farming, he set out to make his "Beauty Ranch" the most modern in the west. He ardently advocated the scientific breeding of animals and imported many European Purebreds to improve his stock. With this in mind, we have attempted to address his agricultural experiment as well as his writings and life.
London once said, "I believe the soil is our greatest asset." These words are truer, in our current world, than ever before! On his ranch he pioneered in soil conservation, using tillage and terracing to make fruitful again the worn-out hillside lands. He raised vegetables, grains, alphalfa, grapes, fruit trees, prunes, potatoes, spineless cactus, eucalyptus trees, horses, goats, chickens, hogs, beef, dairy cattle, prize-winning livestock and cut the biggest and best hay crops in Sonoma County. Whatever London attempted, he attempted in an all-or-nothing way, and his experimental farming methods were no different. His stepsister and Ranch Superintendent, said it best after he died:
"Jack's ambition was to develop a model farm; one of the best all-round ranches in the state, combining a stock ranch, fruit, grain, vegetables, vineyard and the like. He would have accomplished his plan had he lived, for his enthusiasm was unquenchable. His intense energy simply rioted in work. Success seemed only to stimulate him to greater and wider efforts."-- Eliza Shepard
London bought seven parcels of land over the years:
Parcels of land Jack London Purchased

| Property Name | Date of Purchase | Acres |
| --- | --- | --- |
| (1) Hill Ranch | July 6, 1905 | 130 |
| (2) La Motte Ranch | Dec. 19, 1908 | 127 |
| (3) Caroline Kohler Ranch | 1909 | 24 |
| (4) Fish Ranch | 1909 | 9 |
| (5) Kohler & Frohling Ranch | May 14, 1910 | 700 |
| (6) K & F Winery (buildings) | May 12, 1911 | 12 |
| (7) Freund Ranch | Jan. 20, 1913 | 400 |
On May 14,1910 Jack London was able to purchase the Kohler-Frohling Tokay Ranch for twenty-six thousand dollars plus cost of livestock and equipment. The Jack London Ranch now had a total of one thousand ninety acres, making it one of the largest in the Valley of the Moon. Over two hundred acres of the Tokay addition were suitable for growing wine grapes. With seven distinct soils in the alluvial deposits at the foot of Sonoma Mountain, with cool mountain breezes at night and warm sunny days, in an area that had never seen frost during the growing season, a crop of premium wine grapes was almost a certainty every year. But at the time Jack bought the ranch, grapes were selling for eleven dollars a ton. Since it cost more than that to raise them, he reluctantly plowed most of the vines under, leaving enough for his own use.
Jack's purchase of the Tokay Ranch didn't include the buildings - the twelve acres containing the ruins of the old winery destroyed in the 1906 earthquake, or the old six room cottage, the two small stone buildings and the stone sherry house  which were owned by the California Wine Association. Jack's goal was to now buy these twelve acres and the five hundred-acre Freund Ranch above his property, which was vital to his water needs. When, and if, those purchases were made, the Jack London Ranch, as he envisioned it, would be complete.
In 1911, heartily sick of living in makeshift accomodations at Wake Robin, and seeing that the Wolf House would not be completed for at least another two years, he made a move that brought him the happiest and richest years of his life: he bought the twelve acres in the middle of the Kholer vineyards upon which stood an abandoned winery, a broken-down ranch house, and some barns.
On May 12, 1911 during Jack and Charmian's four-horse trip to Oregon, , Jack's step sister and ranch superintendant Eliza Shepard managed to get the cottage livable for them until completion of Wolf House. On September 5, 1911 they rolled through Glen Ellen and up the hill to sleep for the first time on their own ranch, in the cottage.
--David Hartzell