Charmian Kittredge London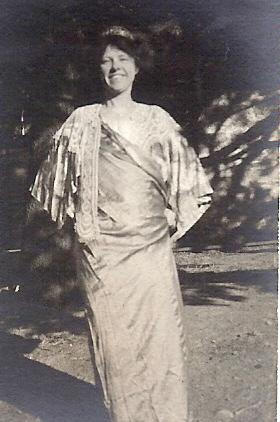 Charmian was born in 1871 to poet Dayelle "Daisy" Wiley and California hotelier Willard Kittredge. After Daisy died of valley fever in 1877, the Wiley clan insisted that Charmian be sent to Oakland be raised by her aunt, Ninetta Wiley Eames. She would not see her elderly and ailing father after that. Charmian was educated at home by her aunt, who also inculcated ideals of feminism, vegetarianism, and socialism. Often solitary, she enjoyed books, riding horses, drawing, playing piano and organ, and swimming. Despite being an only child, she felt unloved as a result of what she believed to be frequent lies and mistreatment from her aunt.
Charmian attended Mills Academy for two years of collegiate level schooling, with course emphasis upon literature, the arts, and philosophy. She learned shorthand and typing from her uncle Roscoe Eames, and paid for her Mills expenses by serving as secretary to founder Susan Mills. For women to graduate from high school, let alone have some university schooling was unusual during that era.
During her twenties, Charmian was praised in the Bay area for her virtuoso piano playing at local concerts, and chastised for defying the side saddle to ride her horse astride in public. She was an accomplished and published photographer as well. Unusual for middle class women of her day, she supported herself by working as a secretary for a shipping firm in San Francisco. She took pride in being able to afford her own horse, its stabling, and a part-time Swedish maid. Popular in the Berkeley social scene, she nonetheless remained single, though not for lack of suitors.
During the 1890s, Charmian's uncle, Roscoe Eames, became business editor of the Overland Monthly, where Charmian helped out in her spare time by writing reviews and articles, not all of which bear her name. She first met Jack London during his visit to the editors, and they became casual friends. He wrote friends of admiring her familiarity with the latest writers, as well as her engaging personality. She published an admiring review of The Son of the Wolf for Overland Monthly, and he credited her with being his first reviewer. Four years older than Jack, Charmian was involved with another man at the time and not attracted to London. During his marriage to Bess Maddern, she lived in New England for a year, as well as travelled abroad. Upon her return, she was among the many guests at the London's gatherings for their artistic friends.

During the summer of 1904, chance events brought the two alone together, and they fell passionately in love. Following Jack's divorce, a year later they settled in Glen Ellen, and married. There London began his plans for the Beauty Ranch. Charmian became his secretary, in exchange for which he gave his unpublished manuscripts--no small benefit, it would turn out. A gifted athlete with innate courage, Charmian was game for London's adventures, the first of which was the sail across the Pacific (1907-9) in the tiny Snark. That trip was postponed by the great earthquake and fire of 1906, after which Charmian and Jack wandered San Francisco, taking photographs and notes for his articles on the disaster. As a result of the Snark voyage, she wrote two critically acclaimed books, The Log of the Snark and Our Hawaii. She would accompany Jack on a long four-horse driven trip through northern California and Oregon, and during his Mexican-American war correspondence. Winters in California the couple sailed for two to three months in the Sacramento delta, a time treasured for its isolation from others. When at the Beauty Ranch, they typically had guests staying for extended periods of time. The final two years of London's life, the pair lived for extended periods in Hawaii, an experience that would lead to a revised version of her original book on that island chain.
Jack appreciated Charmian's hard work, her artistic talents in music and drawing, and her ability to combine traditional feminine style with unconventionality. London found in her the components of a mature personality, the "Man Comrade," one who was both strong and tender, male and female in traits. Throughout the marriage he inscribed loving notes in his books, such as in 1916:     
"The years pass. You & I pass. But yet our love abides--more firmly, more deeply, more surely, for we have built our love for each other, not for the sand, but upon the rock." (Little Lady of the Big House)
There were problems in the relationship at times, usually related to his episodes of drinking or her periods of depression. Overall, they adapted and nurtured their relationship through their time together. Charmian was proud to be her husband's assistant, while he understood her more sensitive nature. Their devotion saw them through the loss of a daughter at birth, the miscarriage of another child, the tragic fire at Wolf House just as it reached completion, and Jack's failing health.
Following his death in 1916, Charmian committed herself to saving the Beauty Ranch, primarily by the sale of London's writings both in print worldwide and through film contracts. While stepsister Eliza Shepard managed the daily ranch activities and business particulars, Charmian became the publicist. She travelled frequently to Europe until 1939 to work with agents, publishers, and translators, as well as to give talks in public and on radio. As a result, she became a well-known personality in her own right. Accordingly, she wrote what became a two-volume biography of London's life, based upon her own experience with him as well as stories he had shared about his earlier years. Though she sanitized aspects of their own meeting, she was surprisingly candid about London's habits and behaviors. Unfortunately, no strong editorial hand placed red marks on the manuscript, and it was not well received by critics.
Knowing her own biography to be flawed, Charmian hoped for a talented writer to take up the charge. Over the years she stifled some hopefuls, such as Rose Wilder Lane, who wrote a barely disguised novel, He Was a Man. Charmian did encourage Irving Stone and stepdaughter Joan London. Her encounters with Stone deteriorated, and his Sailor on Horseback came under criticism for treating London's fictional writings as biographical fact. During the 1930s she became more involved with movie development, and would eventually sell her Book of Jack London to be made as a film, Jack London. Among guests to the ranch were film directors and stars of the period.
In her private life, Charmian pursued a variety of relationships with men, though she never remarried. Raised with a liberal attitude toward sexuality, Charmian frankly enjoyed its pleasures and did not hesitate to seek out partners. She had little interest in emotional involvements. Harry Houdini , among many, pursued her, but she genuinely loved only one, travel writer Frederick O'Brien.  
She had a large home, dubbed Happy Walls, designed by Harry P. Merritt, and stated it was to be used as a museum following her death. Unlike her time with Jack, she preferred solitude on the ranch, with few overnight visitors. For social life, she attended the latest plays, concerts, operas, and balls in San Francisco. Despite a near-fatal horseback accident in 1935, she rode until into her seventies.
Similar to Jack, Charmian supported prison reform and animal welfare activities. She wrote about both in letters to editors. She also worked on several incomplete books.  One was Charmette, an autobiographical novel. The other was to be on their trip around the horn on the Dirigo. She managed only to publish a diary on that episode for a book on steel-hulled sailing ships.
By 1940, she was suffering minor strokes, and by 1947 was no longer able to continue her lifelong diary keeping. She died on the ranch at in January of 1955 age 84. As she had requested, her ashes were placed alongside Jack's on the ranch. National papers acknowledged her passing, but a local one captured her personality best: "her engaging smile, her splendid intellect, the eternal life she gave to Jack London."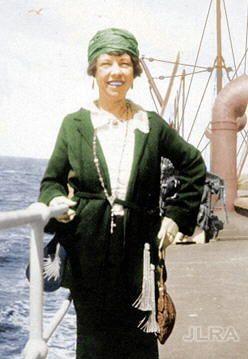 Today the house she built for herself after Jack's death, Happy Walls, is a museum devoted to their memory at Jack London State Historic Park. She did lived there episodically and preferred to stay in the old Cottage. She always intended it to be a museum.
--Clarice Stasz
Sources
Dunkle, Iris Jamahl. Charmian Kittredge London: Trailblazer, Author, Adventurer. University of Oklahoma Press, 2020.
Labor, Earle, Robert C. Leitz III, and I. Milo Shepard, The Letters of Jack London, 3 volumes, Stanford: Stanford University Press, 1988.
London, Joan.Jack London and His Daughters. Berkeley, CA: Heywood Books, 1990.
Sinclair, Amdrew.Jack: A Biography of Jack London. New York: Harper & Row, 1977.
Stasz, Clarice American Dreamers: Charmian and Jack London. New York: St. Martin's Press, 1988.
______.Jack London's Women. Amherst, MA: University of Massachusetts Press, 2003.
Wikepedia entry. Charmian Kittredge London. https://en.wikipedia.org/wiki/Charmian_London