Beauty Ranch Cottage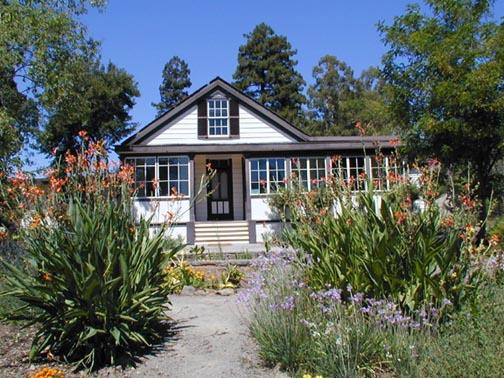 The Cottage was the Londons' principal home on the Beauty Ranch. This wood-framed Cottage, built in the 1860s, was purchased by London in 1911, along with the Kohler and Frohling Winery buildings. It was enlarged after the Wolf House burned in 1913 to add a large den annex for London's writings. He had the bathroom modernized and added a skylight. Jack and Charmian had separate glassed-in sleeping porches.   Eventually it grew to some 3000 square feet of living space.
--Dave Hartzell
An annex provided a large living-dining room with kitchen. Its purpose was to entertain the many guests who came to stay, some for extended periods of time. Guests lived in a renovated carriage house close to the cottage.
The decor was Arts and Crafts, typical of the period. In reaction to the Victorian fussiness and over-design, the principles were based on combining beauty and purpose. A well-designed object did not need extra ornamentation. It also emphasized handmade objects, which included those from other cultures. The Londons featured goods collected during their various travels, primarily through the Pacific on the Snark. This is most evident in their living and dining room Annex, which is decorated with tapa cloth, calabashes turned into light fixtures, and pottery. Charmian's diaries reveal how they were collecting these objects to furnish Wolf House.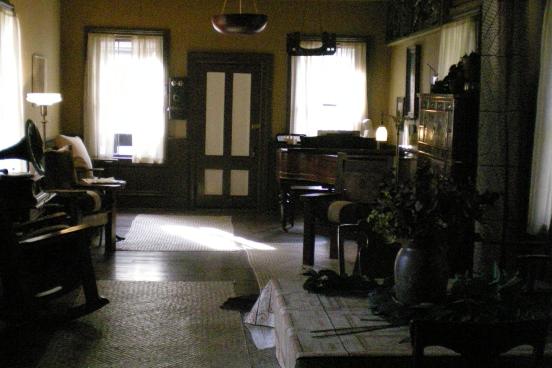 After Jack died, even though she built Happy Walls, Charmian preferred to live in the cottage. She spent most of her time there except for some years during the 1930-40s.
She preferred the coziness and memories of the Cottage. It was also convenient for accessing Jack's notes and surviving library. In widowhood, she wrote a two-volume biography of his life, and completed his unfinished novel Cherry. Eliza Shepard and her family lived a short hike away, which made their collaboration on the Ranch more practical.
--Clarice Stasz