Jack London's Writings
"It is a pity Jack London died young. His work is real; his books have been lived."   
--Joseph Conrad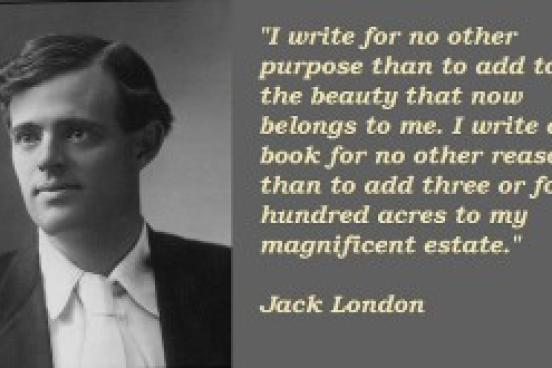 Now known around the world, published in several dozen languages, Jack London committed himself to become a writer by late adolescence. His first publication, as John London, was based on his 1893 sealing voyage on the Sophia Sutherland, when he was 17. "Story of a Typhoon off the Coast of Japan" won the The Call contest he entered. (Second place went to a Stanford student.) A year later he was tramping on the road across the country and back, filling a diary that would become the basis for The Road. In 1895, he published both stories and nonfiction in The Aegis, his high school literary magazine. The following year, now twenty, he had appearances in The Oakland Times, and was learning from its editors. There followed his travel to the Klondike gold rush, which led to his Northland story, "To the Man on Trail," being published in The Overland Monthly. His first story collection, The Son of the Wolf, appeared in 1900.
Gaining notice, he was soon attracting the attention of important editors and offered contracts. He published nationally in  The Atlantic Monthly, The Youth's Companion, Pearson's Magazine, The Cosmopolitan, and other prominent outlets. Magazine were the major mass media before radio arrived. He also published more regionally in Out West, Sunset, and Hearst newspapers. Thanks to his contacts at the San Francisco Call, he received journalism assignments as well. These led to two major forms of coverage: wars and boxing.
As Conrad observed, London's books had been lived. They were not autobiographical, yet based upon his close observations and notes. Whether nonfiction reportage or fiction, the sense of realism is present. For this reason it helps to understand how his other activities in life influenced his writing: his socialism, his farming, his travels, his family. One weaves into the other.
Although he claimed to write to support his ranch, that is only partially true. He was not so active as a farmer until 1910. He was, as with many writers, compelled to create.
With London out of copyright, many are reprinting his works. The results are not always accurate nor presentable. If you need a paperback copy, we recommend two sources:
For authentic copies of many of his books, try  the bookstore at Jack London State Historical Park.
Another source of accurate copies is the 100th anniversary series from SeaWolf Press.
We include links to the many ebooks on the pages that related to each type of his writings.