Virginia "Jenny" Prentiss
Sometime around 1832, a slave woman in Virginia gave birth to a girl she named in honor of her birthplace. The child's parents were later sold off, and she ended up n near Nashville, Tennessee, on a plantation owned by John Parker. The only fortune out of her situation was in being assigned servant and companion to Parker's youngest daughter. Also, slave owners from that region were known for being more humane that those from the deep South, which is not to imply the girl's life was easy. Nonetheless, as a companion she did learn to read and write, and acquired many domestic skills that would serve her well in later life. By adolescence, she worked alongside Mrs. Parker, further evidence of her abilities. She also became a committed Christian, and with that belief a sense of comfort and hope in the future. In time, she became convinced that African Americans were superior to whites because the latter were un-Christian in their behaviors.
When the union soldiers of Civil War swept through the plantation, Virginia fled with Mrs. Parker, one of the few survivors of the onslaught. They made their way to St. Louis, where Mrs. Parker's kin refused to take her in. She hired herself out as a domestic worker until it was safe to return to Nashville. There she became a live-in housekeeper for Ruth and Alonzo Prentiss. The marriage broke up, and Alonzo, who may have been mulatto, married Jenny, as she called herself. Two children followed, Will and Priscilla.
By the mid-1870s, the Prentisses were living in San Francisco, where he was a successful carpenter. There in early 1876 Jenny gave birth to a stillborn child. Upon hearing of Flora Wellman's recent troubles, she agreed to take infant Johnny into her home, and took care of him through his infancy.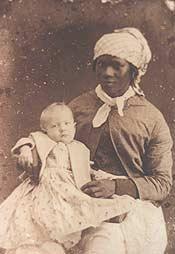 After the boy moved back with his mother and step-kin, Jenny and Alonzo remained close to him. For many years the two families lived near one another in Oakland. Johnny came to view the Prentiss children as his cousins, and attended various African American activities, such as church, with the family. The Prentiss family was more stable emotionally and more financially secure than the Londons. Jenny was devoted to the youngster and doted on him. She even lent him money to buy a boat to sail on San Francisco Bay.
When he became successful, he supported Jenny, who was left widowed with few funds. She cared for his two daughters bother during his marriage to Bess Maddern and after the divorce. Eventually she lived with Jack's mother Flora in Oakland. She became a well-known figure within the African American community, both as a midwife and as a leader in various organizations, such as the Federated Negro Woman's Club.
Jenny's final years were spent in rest homes, and eventually she became so senile that she was sent to Napa State State Hospital. There she died at about age ninety-one on November 27, 1922. She was buried in Mountain View Cemetery alongside Alonzo and her children, in an unmarked grave. Those attending the funderal included Eliza Shepard, along with Bess, Becky, and Joan London.
Jack London's affection for Jenny Prentiss is well-documented; he called himself "her white pickaninny." But he was also influenced by the attitudes of his day, and referred to her as "Mammy Jenny," a title she abhorred. Later books and articles invoked the same reference, and as a result described her in a simplistic manner, the ever-faithful slave mother. Charmian London's biography of Jack omitted some information on his relationship to the Prentisses in the U. S. edition of her book, though it was kept in the British version. Scholars now recognize that Virginia Prentiss was especially significant during Jack's youth. Perhaps that relationship is one reason why Jack argued against lynching and criticized racist attitudes in some of his stories, while expressing racist attitudes in some instances.
--Clarice Stasz
Sources
Goldstein, Ben. "Jack London and the African American Community." Documentary film interview with Mary Rudge, 2014. Available for free at Kanopy.com.
Lasartemay, Eugene and Mary Rudge. For Love of Jack London:His Life with Jennie Prentiss, New York: Vantage, 1991. [This account has fictional elements, such as imagined conversations, but includes many well-researched facts and copies of documents.]
Clarice Stasz, Jack London's Women. Amherst, MA: University of Massachusetts Press, 2003.